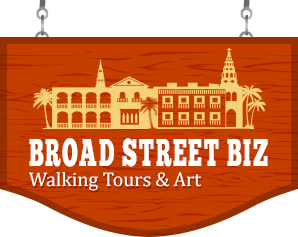 As a special offer for Charleston Conference attendees, the fabulous folks at Broad Street Biz have put together a great selection of walking tours that will be available during the dates of the Conference.  Led by Carol Ezell-Gilson and Lee Ann Bain, they will offer a special, behind-the-scenes look at the historic downtown area.  Choose from Lady Lore: Fabulous Charleston Women, The Charleston Renaissance: Arts and Literature, The Grimke Sisters of Charleston, and more.
Visit http://broadstreetbiz.com/walking-tours/the-charleston-conference/ for more information and to reserve your tour today!
Leah was appointed Executive Director of the Charleston Conference in 2017, and has served in various roles with the Charleston Information Group, LLC, since 2004. Prior to working for the conference, she was Assistant Director of Graduate Admissions for the College of Charleston for four years. She lives in a small town near Columbia, SC, with her husband and two kids where they raise a menagerie of farm animals.